Wendy Ford is a garden designer doing business as Landscape Fancies since 1999 and as Landscape Fancies LLC since 2008.
Raised in Europe, Wendy has visited gardens around the world but maintains a special interest in restoring native habitat to Indiana backyards and greenspaces. She is certified as a Wildlife Habitat Steward by the Indiana Wildlife Federation.
Wendy is webmaster and former INPAWS Journal editor for the Indiana Native Plant and Wildflower Society and has served INPAWS as its vice president and as designer of native plant demonstration gardens at Orchard in Bloom. She is past president of the IMA Horticultural Society and now Vice President/Secretary of Friends of Cold Spring School Inc., the support group for Indianapolis Public Schools' K-6 environmental studies magnet.
Design projects include a swale garden and biohedge at a Fall Creek Parkway residence, a master landscape plan for a home in Forest Hills, native plantings for a commercial campus, an IPL Greenspace project for Keep Indianapolis Beautiful, the perennial gardens at Indianapolis City Market, and landscaping at Indianapolis Animal Care and Control Center.
Wendy is pleased to partner with Hoosier Gardener Jo Ellen Meyers Sharp to provide garden designs for her clients.
Contact Wendy at lanfan@comcast.net.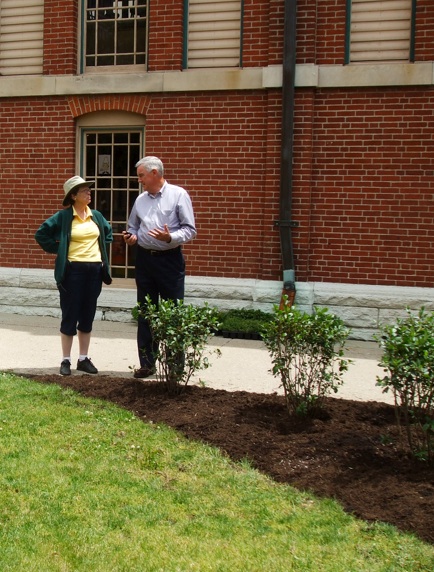 Jo Ellen has captured my totally geeky installation supervisor look! I'm consulting here with Jim Reilly, executive director of Indianapolis City Market, on phase two of the landscape makeover we undertook in spring 2009.